Welcome!
Thanks so much for taking the time to browse to my little home in the ether! I'm Jodi, the messy, creative heart behind Tales of Cloth! I work from home in my studio in Orange, Australia, usually with a red pup keeping my toes warm, a coffee on my desk, and a crime novel in my headphones.
I love, love, love English Paper Piecing! I hope that comes through in every corner of this shop. I love that I can do it anywhere, I love working with my hands, I love that it stops them scrolling, and that the quiet or waiting moments are now spent making something beautiful and useful and warm. What a gift!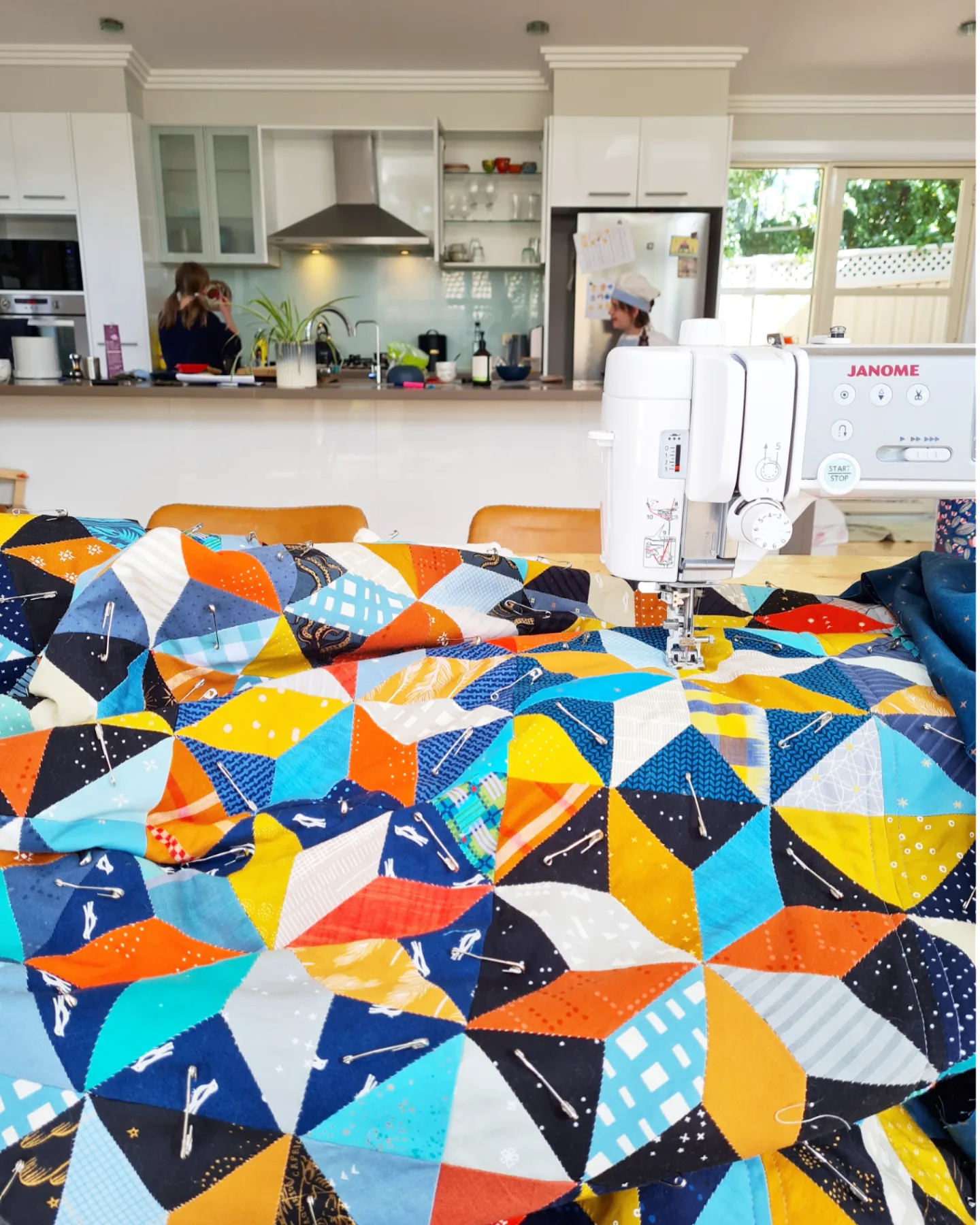 Why I love to sew
more than gardening
I always thought I would have garden. But I took up sewing instead.
Read more
About me
I took up quilting around 12 years ago as a bored and frustrated newish mother of two. I loved doing a little sewing each day that was real progress towards something beautiful, rather than needing to start all over again the tomorrow (like the washing) or turning to chaos if I didn't keep on top of it (like the garden and the toddlers). 
But I also spent a lot of that time wondering if I was being indulgent, selfish, or wasteful. I would get asked why I was making a quilt, "Who is it for?" or why I was sewing by hand, "Wouldn't a machine do it faster?" I had voices both inside and outside my head telling me that this fun, new hobby of mine was only worth it if it was for someone else (a gift or for sale), or if it didn't take too long. 
12 years later I can finally hear those voices and roll my eyes. Why is someone else's joy more important than mine? Why is the time it takes more important than the enjoyment of it?And so that's why I'm here. I really want you to know that "useful" or "fast" or "money making" aren't the only things that make something worthwhile.
We humans love things that are interesting, inspiring, beautiful, or joyous. We're just quick to forget that when we're judging our own use of time! Well, this is your friendly reminder that your joy is VALUABLE. And if, like me, fabric and sewing and using your hands makes you really happy, I want to help you dive right in! 
Care for the Earth
I am deeply commited to taking responsibility for my impact on the earth. I want to help nourish this beautiful gift, rather than add to its burden! That's why we use 100% post consumer recycled paper for our shapes and packaging, and plant based cellophane rather than plastic to keep your order protected during transit.
And we've partnered with Ecologi to plant a tree for every order made in our shop!
Find out more
Free Hexie Pattern
I love touching base with my newsletter list each week! I share what I've been listening to while I sew (usually crime novels on Audible!), what I'm stitching, cool things I've found online, and endless encouragement and inspiration for how to give your creative heart time and space.
New subscribers get this super cute Hexie Banner Pattern, and FREE SHIPPING on their next order!
Sign up now!
Join the Club
By far, my most popular product is my annual quilt club. I think that says less about me, and much more about how much people love to connect with like-minded crafters, learn new things, and share what they've made. Aren't people wonderful?
It's not too late to join the 2023 cohort, sewing the Hexie Harvest Quilt together. You can find all the info, access to the monthly emails, and the Facebook group below!
Hexie Harvest Club
Get in Touch!
Ask a question, give feedback, let me know how much you love me! ;P
I answer all emails within 2 business days.